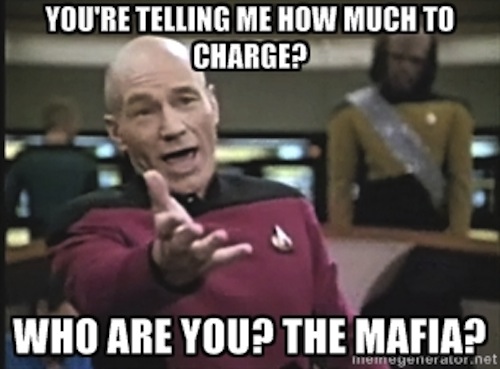 When Blue Shield of California was designing the new health plans it would offer individuals under the Affordable Care Act (ACA), the insurer made a simple request to doctors and hospital in its network — lower your prices or get left behind. The insurer asked providers to accept reimbursement rates as much as 30 percent lower than what Blue Shield previously paid through plans sold on the individual market. Keep in mind that billing through a third-party-payer is about to multiply tenfold in complexity (from ~15,000 to +155,000 billing codes with ICD-10), meaning that getting paid will require more work for fee-for-service docs. In fact, providers are attending training seminars, paid for out of pocket, to learn how to deal with this billing beast.
Some providers got on board with Blue Shield, but not all of them.
According to Blue Shield, only 60 percent of the doctors and 75 percent of hospitals participating in Blue Shield of California's group plans will be included in individual plans purchased through Covered California, the state's new insurance exchange. Oh, and some of the providers who refused the lower rates were also some of California's most prestigious — and expensive — hospitals: Cedars-Sinai Medical Center, and hospitals affiliated with the University of California.
"Our goal was to provide affordable options for California consumers and there are few levers we have to get to an affordable price point," says Steve Shivinsky, a spokesman for Blue Shield of California. "One of them is to ask the providers to contract with us at new rates and that led to smaller networks."
Okay, but that's not really how a market works. You don't just show up and tell people what to charge for a service. Seriously, is this the mafia? But it gets better. Look at this Kaiser employee executing flawless PR doublespeak.
"This is market competition," says Karen Pollitz, a senior fellow at the Kaiser Family Foundation who studies the insurance market. "Whether you like it or not, this is what we signed up for."
Karen, this is NOT market competition, and this is not what we signed up for. Creating narrower networks for providers to deal with insurance, i.e. red tape, i.e. a market-crippling force, is not the same thing as providers entering into the market, freely, and competing to win over customers/patients and deliver the best care possible.
Keep in mind that Pollitz worked for the Department of Health and Human Services and helped implement the ACA before she took the post at Kaiser. She says that it's "not clear" if expensive hospitals like Cedars-Sinai will lower prices to attract customers through Obamacare's insurance exchanges. I guess she was obliged to say this for its own sake, because at a rational level, would this ever happen?
We don't think so.
Read more: Obamacare: Keeping Your Doctor No Easy Feat | TIME.com