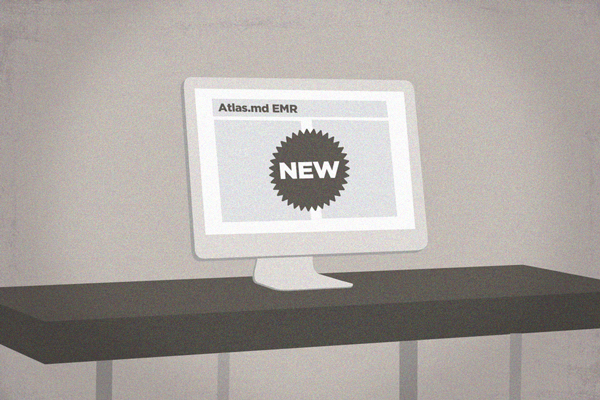 This December we're giving the gift of convenience – for both you and your patients. New features include the ability to store multiple credit cards per patient, the ability to set custom default appointment duration times, new and easy ways to share patient data, and even a new pharmacy user. Here's a complete rundown of the new features you'll find in the EMR:
Manage Multiple Credit Cards Per Patient
Now you can add and manage multiple credit cards in your patient's billing profile. This means you (and they!) can choose which card to use to make payments inside the EMR and through the Patient Access App. Get the details over here.
Introducing the Patient Sharing Central
Need to share some information but don't want to send the whole chart? We hear you. Sharing is easier than ever with the new Patient Sharing Hub. Share only the information you need via email, download or print. Learn how here.
New Appointment Duration Options
Now you can customize the duration of your appointments. Appointment lengths default to 30 minutes, but you can increase or decrease by 5 minute increments to fit your clinic's needs. Read more about that and other calendar setting up dates over here.
New Macro Alert! #Demo
Type #demo to fire the new Demographics Macro and easily enter these details for your patient: name, DOB, cell, email and address. Refresh your memory on all available macros over here.
Patient Enrollment Now Available in Spanish
You probably have your enrollment nicely embedded on your website, right? Well now patients who access that enrollment form have the option to do so in Spanish. All the patient has to do is select "Spanish" on the first page. Way to cater to your patients, you Direct Care guru!
Search by Patient DOB
Now you can find patients by entering their DOB in the Atlas.md EMR search field. This is particularly useful if you have partial data for a patient. So enter their birthday in any format you can imagine, and get on with your day.
Search by NDC in Your Dispense History
We're thinking of you and your many habits here, which is why you can now search your dispense history by NDC. That's right, your clinic, your EMR, your way. Freshen up on how to get there.
Introducing the "Pharmacist" User Role!
Are you a clinic who either doesn't want to, or is unable to run your pharmacy in-house? Do you use a third party pharmacist? Do you wish doing so was easier? Now it is. Read all about user types, their roles and costs over here.
Dedicated Recent Activities Page
Introducing a way to review your clinic's complete recent activities report! Previously a dashboard widget, now you can search for specific date ranges, modules altered and the author of the changes. You're in charge, and we know it.
Rx Support for Multiple Locations
The Atlas.md EMR goes the extra mile to make sure you're doing exactly what you mean to do. So when your patient doesn't belong to the same location as you, we'll prompt you to confirm which location's inventory you want to prescribe or dispense from. Simply follow the brief on-screen instructions, and get on with it.